---

by Leo "Dr. Nemesis" Lucien-Bay

NEWS
| | |
| --- | --- |
| Help with VO | 19th October 2000 |
As It turns out I may have some assistance with the voice acting by Diesel who I have just been introduced 2 by Dr|fter. This still counts as a solo film right?? I am Dr. Nemesis
| | |
| --- | --- |
| VO with an aching head | 18th October 2000 |
On Monday I had some crazy ass operation on my head and Now I'm in total pain. I haven't been able to do much cause of it. Did some voice over work 2day though. Thats goin' pretty OK I'm not gonna do any more virtual acting till the whole VO is finished, just incase somethin' goes wrong.
I am Dr Nemesis
| | |
| --- | --- |
| Interviews & Publicity. | 13th October 2000 |
I did an "On the Slate" interview at M.com. Since publicity 4 SOS has gone up I think I will need to spend more time making this site better like putting up pics and shit. I will give another progress report on monday. I gotta say that the support I've recieved so far has really helped. Thanx 2 everyone who's given a helpful word. I am Dr. Nemesis.
| | |
| --- | --- |
| Damn! I said it too early. | 10th October 2000 |
Oh Well. Just couldnt keep my mouth shut and I announced the sites existence on the M.com message boards, so I thought I should do another update (the site's 2 empty). I'll carry on working on SOS tonight. more filming and more voice overing. I hope I finish soon. I am Dr. Nemesis.
| | |
| --- | --- |
| Launch Day! | 9th October 2000 |
So, Here I am now working on my own struggling to make a film. After recieving some much needed motivation from some cool dudes I'm back on track. If ppl are wondering why I'm solo its cause SDP split up. I now see that if u wanna get some films made u gotta do em yourself. Anyways If this gets made I think it will be quite an achievement seeing as I'm solo. This is my first site so you have to excuse the crustiness. I have a poster. In a weekor 2 I should announce this film at Machinima.com. Untill then, I have the poster. support is appreciated. I am Dr. Nemesis.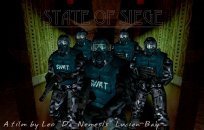 Copyright 2000 Leo Lucien-Bay